PREVENTATIVE MAINTENANCE IN MILLSBORO, DE
PREVENTATIVE MAINTENANCE FROM FIRST CLASS HEATING AND A/C
Before the cooling or heating seasons, it's a good idea to have your HVAC system checked out by the maintenance experts at First Class Heating and A/C. Homeowners in Millsboro, DE count on us to provide preventative maintenance services to keep their homes comfortable all year long. Small problems can become bigger ones as your system continues to run without help. Just as your automobile needs regular maintenance, so does your air conditioning system. Should you require service on your current home comfort system, our skilled technicians have the know-how to diagnose, adjust, or repair your system, so you're comfortable year-round. The best way to take care of your new or old system is to get a preventative maintenance contract. At First Class, we offer this contract for any system, so you can have peace of mind your system is running as safely and efficiently as possible. Contact us for more information or to get started today.
WHAT IS PREVENTATIVE MAINTENANCE
Preventative HVAC maintenance is the act of hiring a professional to perform regular maintenance on your heating and cooling system to lessen the likelihood of it failing. Preventative maintenance can save you money in the long run and it keeps your system working more efficiently. You're less likely to need significant, costly repairs in the future, and you'll save money each month on your electricity bills at the same time. A preventative maintenance contract from First Class Heating and A/C is a proactive way to save money and keep your HVAC system running efficiently at your home in Millsboro, DE.
WHAT'S INVOLVED IN HVAC PREVENTIVE MAINTENANCE
Keeping your air conditioner working properly through the summer doesn't happen on its own. While there's no magic formula to keep cool, comfortable air flowing, it all comes down to preventative maintenance. Getting these services doesn't mean you'll never need your HVAC system repaired or replaced, but it does help to extend its lifespan as much as possible while keeping unnecessary repairs at bay. Your best bet for reliable performance from your cooling system is to sign up for a program of regular and preventative maintenance. There are also some things you can do yourself, including changing your air filters every 30 to 90 days. It's also essential to keep your HVAC unit free of leaves, grass, and pollen. The trained and experienced HVAC professionals at First Class Heating and A/C will cover the following items as part of a routine inspection and cleaning service:
Performing a comprehensive safety inspection
Cleaning fans and condenser line
Testing and calibrating the system for maximum performance and efficiency
Lubricating fans and mechanical components
Replacing or cleaning A/C filters
Replenishing or replacing refrigerants
WHY PREVENTIVE HVAC MAINTENANCE IS IMPORTANT
It's recommended you follow the manufacturer-recommended maintenance schedule at the very least. If you aren't sure what needs to be done or which schedule to follow, contact the team at First Class Heating and A/C. We'll assess the age and condition of your HVAC unit and recommend a preventative maintenance schedule. In most cases, we recommend our preventative maintenance contract. This will keep you on schedule and save you money in the long run. Our routine inspections provide the following benefits:
Cost Savings – Keeping your HVAC system clean and free of debris can save you money by avoiding unnecessary repair bills. Catching problems before they get worse is a great way to reduce costs while keeping your system working efficiently. Common problems with HVAC systems include failing to turn on, temperature fluctuations, not cooling the home evenly, leaks, and strange noises. Alert us at the first sign of any of these issues, so we can catch them before they get worse.
Efficiency – A dirty or clogged HVAC unit must work harder to achieve the same levels of results clean systems do. The harder your system works, the more electricity it uses, resulting in higher monthly energy bills.
Cleaner Air – Regular HVAC maintenance can promote cleaner airflow and reduce allergens, which irritate allergies and asthma. Your family might feel better as a positive side effect of preventative maintenance from First Class Heating and A/C in Millsboro, DE.
CHOOSE FIRST CLASS HEATING AND A/C FOR PREVENTATIVE MAINTENANCE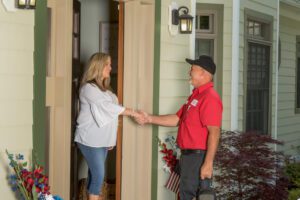 Choosing a preventative maintenance contract from First Class Heating and A/C means choosing to save money and be more comfortable in your home. In addition to the benefits, preventative maintenance provides you, First Class Heating and A/C also offer a myriad of heating, cooling, plumbing, and water treatment services in Millsboro, DE. Why choose us? With more than 20 years in the business and the most highly-trained and professional technicians, we're here for your whole-home needs for HVAC, plumbing, and even your crawlspaces. Contact us today to request service or to get signed up with a preventative maintenance contract.
Call us for fast, reliable HVAC services! Find your local First Class today for fast, reliable HVAC services in your area!